Cascade 7000 Flush Fin Eco-View Series
Architects, homeowners and building professionals can all appreciate the Cascade 7000 Flush Fin Series. Cascade's innovative design blends a timeless look with structural integrity. The 7000 Series allows replacing your windows without the typical damage to your stucco or drywall. Cascade offers a classic design with innovative features that provide style and functionality. Security is built into the Cascade Series. Sliders and single-hung windows feature locking hardware.
Cascade U-Value
U-values measure the rate that heat transfers through a product. Therefore the lower u-value, the lower the heat loss and the better your home is insulated. Be sure to check the u-values on any window that you might be considering. Our specially coated EC and EC+ windows re ect outside heat in the summer and interior heat in the winter, reducing your air conditioning and heating requirements.
U-Value Sample Range

The Advantage of Cascade Windows Glass Coatings
EC = Dual Coat internal Low-E, high performance internal Low-E with more visual light transmittance.
EC+ = Triple Coat internal Low-E, has been specially formulated to reject the sun's heat without affecting the view. It lets in more light and helps keep the heat out.
EC/EC Advanced = Dual Low-E, high performance internal Low-E combined with 4th surface Low-E.
EC+/ EC Advanced = Dual Low-E, Triple Coat internal Low-E with 4th surface Low-E, the best overall combination for low solar heat gain and the maximum reduction in u-value.
Dual Pane Glass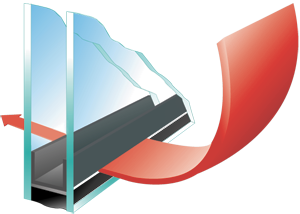 EC+ Low-E Glass
The Warm Edge Spacer reduces condensation, reduces heat loss/gain through the glass, and greatly increases the integrity of the insulated glass unit's seal.
Super Spacer Options
Cascade Ultra spacer system offers the same esthetics as our standard intercept spacer although with better u-value performance rivaling that of a foam spacer system.